I have been meaning to pay a visit to Old Economy Village for a while.  This was the third home of the Harmony Society.  The Harmonists were a religious society, founded by George Rapp, that separated from the Lutheran Church in the late 1700s.  Eventually, Rapp emigrated to the United States and was jointed by 800 of his followers.  They established three communities, first in Harmony, Pennsylvania, then in New Harmony, Indiana, and finally in Old Economy, Pennsylvania.
By 1825 they had constructed textile factories powered and heated by steam engines. They built shops for blacksmiths, tanners, hatters, wagon makers, cabinetmakers and turners, linen weavers, potters, and tin smiths, as well as developing a centralized steam laundry and a centralized dairy for the community
They have a wonderful museum in their visitors center with a number of artifacts from the village.  After touring the visitors center museum, I headed over to the village itself.  There were a number of period re-enactors and demonstrators on hand.  While touring the granary and watching a rope-making demonstration, my eyes wandered and noticed this frame and panel tool chest.  I was informed by the staff that the tool chest was not from the period the society was in existence.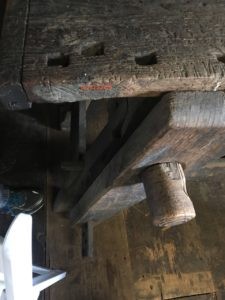 Sitting behind a number of chairs for visitors was an old Moravian-style workbench. This guy had square dog holes (as all workbenches I observed had), as well as a leg vice that was sloped with the leg. The legs on the tail-vise end of the bench were not splayed out.
The cabinet shop had a number of tools laid out to see.  I didn't get a photo of it, sadly.  I guess that means I'll need to take another trip up.  Of note was a large treadle lathe that appeared to require standing on a platform.  In addition, the demonstrator in the shop had one of the thinnest holdfasts I have ever seen.  It was made by one of the blacksmiths at the village.  Two things stuck out about it.  First, the work bench did not have any holdfast holes.  Instead, he had a wooden insert that he could drop into one of the square dog holes.  Second, in spite of its rather thin shaft, it held down a workpiece fairly well.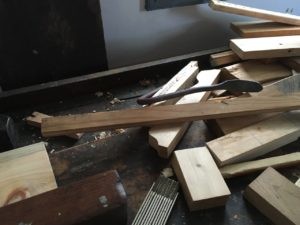 There was a small chest in the visitor center museum that I found interesting.  The base is a scallop.  Furthermore, it appears that the front is joined to the sides with a few half-lap joints.  The back looks to be nailed or screwed on.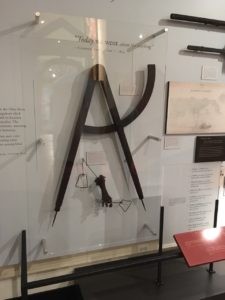 And of course, the museum had the largest set of dividers I have ever seen.  Each leg was at least three feet long.  A notation indicated that they were used for "drawing circles and arcs for the construction of buildings, wagon wheels, and other round structures."
I only had a chance to tour through a handful of buildings in the village.  Another trip will need to happen in the near future.